Components
Project/Program Management
Our project managers are senior learning consultants who will manage communications with stakeholders, develop project plans, engage resources, monitor schedule, and ensure all deliverables have passed quality assurance checkpoints. All Briljent projects are managed in our cloud-based project management tool, enabling better collaboration, visibility and speed of delivery.
Measurement Consulting
Organizations need to determine if learning initiatives are:
– Efficient. Is training being delivered as efficiently as possible? Tracking efficiency metrics can help learning teams make better decisions about the nature, frequency and format of training programs, enabling them to have greater reach with less investment.
– Effective. The key question asked with every initiative is "Is it working?" Learning professionals constantly seek ways to show the impact of their programs and correlate learning outcomes to business performance change. When real results can be demonstrated, the business case for learning initiatives is clear.
– Briljent combines thoughtful assessments with tracking technologies to connect the dots between participation and performance change.
The Application
Improving Marketing, Education and Enrollment Practices
The Centers for Medicare and Medicaid (CMS) were concerned about how national health plan sponsors marketed their Medicare Advantage products to their beneficiaries. CMS wanted to provide oversight and common-sense monitoring to prevent illegal, unfair, fraudulent, wasteful, abusive, or deceptive health plan marketing practices. Briljent was engaged to increase CMS's visibility into existing marketing, beneficiary education and enrollment practices.
Our solution involved four components.
We developed a program to hire, train and manage hundreds of secret shoppers, who documented over four thousand shopping experiences across the country. A script and a scoring tool allowed us to report and analyze all of their data. We constructed a web-based surveillance dashboard that consolidated quality and policy information from the secret shoppers, industry organizations, and CMS. This database allows CMS to monitor and pinpoint trends as they happen. This reporting platform streamlined a 3-5 month process and shortened it to 26 days.
CMS did not have the resources to efficiently conduct call center performance monitoring. Briljent launched a quality performance initiative for selected call centers that included scripts, scorecards, training modules and role-playing exercises. Secret shoppers then made more than 5,000 calls to the call centers – these calls were evaluated for accuracy and consistency.
Finally, we trained specialized data collection callers to make outbound calls to beneficiaries to verify enrollment, determine if beneficiaries were satisfied with their enrollment experience, and ask how that process might be improved. Using a standardized scoring tool and calibration process, the Briljent team devised a system to detect variations in both customer service levels and the enrollment process.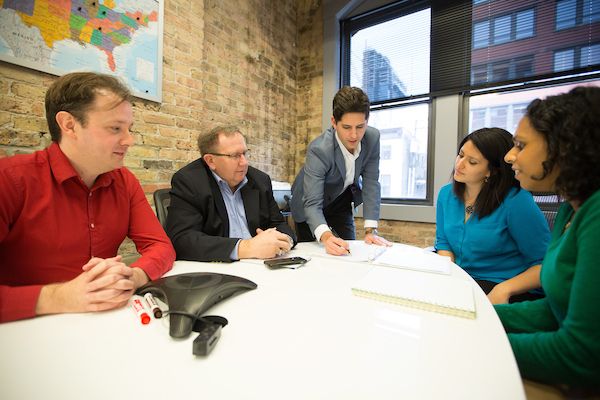 What people are saying
We Feel Accomplished
We developed a great relationship with this client – we remained "tuned in" to our client's needs and priorities, always focusing on how we could help them achieve their goals. Even more important, we feel a sense of accomplishment knowing that beneficiaries are increasingly protected. For us, that is a job well done.
Anna Deahl, Senior Project Manager
"