Federal
The Federal business development team brings cutting edge services and solutions to all clients across the various agencies of the federal government.
We are proud of the work we do with the Department of Health and Human Services (HHS), specifically with the Centers for Medicare and Medicaid Services, the Administration for Children and Families, the National Institutes of Health, the Office of the National Coordinator for Health Information Technology, and the Substance Abuse and Mental Health Services Administration.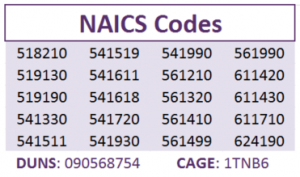 Our strength lies in the proven expertise of our team in leveraging years of experience in our diverse projects.
Our skills and services have evolved in training, educational design, change management, program management, data collection and evaluation, Quality Assurance, policy implementation, logistical support.
Briljent assists clients with developing effective strategies to bring about efficient change, or enhanced and scalable capabilities. We work to resolve complex issues by providing adaptable, executable solutions and analysis to support program development and deployment.
On the technical front, Briljent is a leader in managing the human side of technology change, adoption, measurement and process engineering. We insure our clients are fully engaged and that change is managed in a direct and efficient manner.
Briljent has a wide array of professionals, partners and strategic alliances to provide subject matter experts to assist with any capability that may be required by our clients.
State/Local
For well over 15 years, Briljent has consistently expanded our state and local service offerings to become a trusted and reliable partner on hundreds of projects. Our focus on developing and delivering exceptional adult learning solutions has allowed our team to expand into 29 different states.
We have extensive Medicaid experience supporting some of the largest system implementations in the country. In addition to our expertise in Medicaid we have successfully delivered projects in public health, education, and homeland security.
While we serve as the prime contractor on many contracts, we support our partners as a subcontract team member as well. Our goal is to serve our clients with efficiency and diligence. We know that as government becomes more complex, collaborative partnerships are the key to success.
We bring the experience and expertise to create a great client experience for the state employees we support, which translates to having a positive impact on the lives of the millions of people they touch.
View a current list of our State Contracting Vehicles.
Corporate
We understand that companies are navigating heightened regulations and increased competition. Our extensive public sector work has given us comprehensive insight on legislation and how it affects our clients' business. We help our partners and clients stay on top in a rapidly evolving marketplace by developing effective solutions that allow them to successfully adapt and thrive.
Our penchant for collaboration is demonstrated in our exceptional ability to serve as a reliable source of diverse talent needs. Our projects range from providing specific professional services to functioning as outsourced training and change management experts. We've built a reputation for assimilating into our clients' environment and providing support in an effective, seamless way. That achieves our primary goal—doing what we do best so we can let our clients shine brilliantly.
Our Needs Were Truly Met
We partnered with Briljent to develop Health Information Technology Training. It was a collaborative and successful project and we have extended the relationship with Briljent to include additional services. The folks at Briljent are trustworthy and reliable partners, delivering a quality product on schedule and on budget! Our needs were truly met by Briljent's engaging and high-quality training product. - The Wyoming Department of Health.
"
Briljent Delivers High Quality
Briljent consistently returns projects in a timely manner. They are always responsive to requests and the overall product is of high quality. - Survey respondent
"
Areas with Expertise
All Industries

2.5 million hours of training solutions to tens of thousands of learners across all 50 states and US territories in the federal, state, and private sectors.

2.5m

2.5 million training hours delivered
Contracting Vehicles
Program Support Center (PSC) Large Business
Technical Services for Assistant Secretary for Planning and Evaluation (ASPE), Agency for Healthcare Research and Quality (AHRQ) and Office of the national Coordinator for Health Information Technology (ONC)
Chief Information Officer – Solutions and Partners 3 (CIO-SP3)
National Surveyor Training Program (NSTP)
Network-Centric Solutions (NETCENTS II)
Public Information and Communication Services (PICS)
Program Support Center Small Business
Research, Measurement, Assessment, Design, and Analysis (RMADA)
Small Business Research and Demonstrations (SBRAD)
Strategic Partners Acquisition Readiness Contract (SPARC)
Technical and Management Support (TAMS)
Transformation Twenty-One Total Technology Next Generation (T4NG)
711th Human Performance Win
Mission Support Professional Services
Substance Abuse and Mental Health Services Administration (SAMHSA) Domains V & VI
State Contracting Vehicles
Texas Department of Information Resources (DIR) Deliverables-Based IT Services (DBITS)
Certifications
Women's Business Enterprise (WBE) Certified
We are WBE-certified in the following states and cities:
Alabama
Illinois
Indiana
Massachusetts
Missouri
New Jersey
New York
Oregon
Tennessee
Wisconsin
Fort Wayne, IN
Indianapolis, IN
Philadelphia, PA