Components
Classroom Facilitation
Briljent can recruit, hire, train, monitor and support facilitators appropriate for your delivery needs. Alternatively, we can conduct train-the-trainer sessions with your own staff for any of the courseware we develop.
Training Coordination
We have deep expertise in managing logistics, preparing materials and coordinating teams of trainers for large engagements. We'll help you administer and track registration, enrollment, completion and test scores, using your technology or a Briljent learning management tool.
Follow-Up Coaching and Technical Assistance
Briljent can drastically improve knowledge retention with on-the-job coaching and support after training initiatives have concluded. Our facilitators can set up flexible office hours, one-on-one coaching sessions, online chat support or follow-up web conferences as needed.
LMS Consulting and Support
Briljent can assist in the selection, configuration, optimization and administrative support for most learning management systems.
The Application
A New Way to Assess College Readiness
Briljent recently worked with College Board, a mission-driven not-for-profit organization that connects students to college success and opportunity. Briljent helped train educational leaders and teachers to deliver an assessment that would be a new state graduation exam for high school students. The exam would also provide more access to higher education opportunities for students.
In prior years two different assessments were administered in the state. One was used to determine high school students' readiness for college, while a separate test was used for graduation. The state came up with a plan to use one test for both purposes, and worked with the College Board to redesign how test results were analyzed and reported, so that the same test could serve both needs.
Initially there was some concern expressed by schools. The College Board needed to provide the state support to ensure that educators:
- Understood the importance and value of the change.
- Knew how to access and use College Board resources.
- Could administer the tests and analyze the data.
- Briljent's role was to help teachers, counselors and school administrators make this transition. We were engaged to deliver overview training, regional workshops and webinars to educators across the state.
The presentations started schools thinking about what this new requirement might mean for them and to anticipate how to manage it locally. It also allowed staff time to digest and learn about new resources that would be available to prepare students to successfully complete the graduation exam.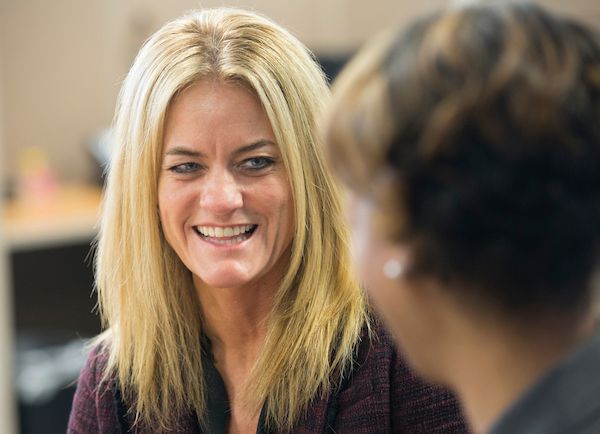 What people are saying
We Provide Possibilities to Students
I was thrilled to work on this project. It was a creative solution that served both the state and their students in a unique way. Alleviating budget and time constraints and providing students more access to higher education opportunities seemed to be a win-win. The structure of the assessment system also allowed students to link to a free remediation resource center providing personalized practice programs. There is evidence that use of the remediation tools and resources has increased, which is another positive for all students, teachers and schools involved as well as for the state. What really matters to me, though, are the ways this unique approach is benefitting so many students and providing them with possibilities for their future.
Cindy Hopkins, Project Manager
"